Understanding the Building Safety Act
The Building Safety Act 2022, and other related changes, introduced a new legal framework for the industry, with additional requirements being set out for higher risk buildings (HRB) that are 18+ metres in height or have seven or more storeys and have at least two residential dwellings, with further implications to all buildings through changes to the secondary legislation and fire legislation.
The updated Building Regulations came into force on 1 October 2023 which impact all projects requiring Building Regulation Approval. The Regulation was required as part of enacting the secondary legislation associated with the Building Safety Act and updated the Building Regulations 2010. However, the change in regulations applied to ALL projects, not just residential or Higher Risk Buildings. The RIBA has a in depth read on the changes here.
KNOWLEDGE AND IMPROVEMENTS
Gain expert advice and awareness on the Act and its proposed implementation
Improve your supply chain through auditing and competency assessments
Development of Building Safety Management Systems for occupation
UNDERSTANDING YOUR NEEDS
We can provide:
Pre-occupation/registration gap analysis
Building Safety Cases & guidance on Building Safety Management
Building condition and compliance surveys with retrofit project support
Quality monitoring including Clerk of Works
CDM, Fire and Building Safety Consultancy
BSA compliant Information Management creation and implementation
Golden Thread development and digital solutions, supporting Building Safety case
KEY DIFFERENTIATORS
Building Safety Charter Signatory
First professional consultancy to complete the CIOB Level 6 in Building Safety en masse
Award-winning and accredited safety teams
Deliver a full range of fire consultancy services with BAFE accreditation
Defined capability standards across all disciplines
National coverage and cross-sector experience
Digitally enabled – ISO 19650 certified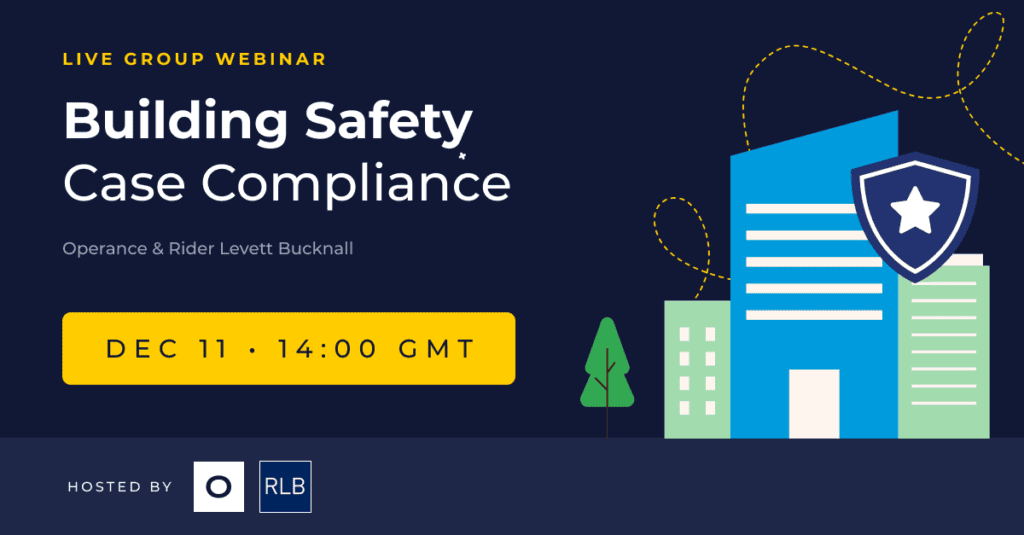 Building Safety Case Compliance
Following the success of our last webinar on Your Journey to Safer Buildings, which attracted over 400 attendees, we're happy to be partnering with Operance once again to explore this topic. 
The Building Safety Case Report stands as an indispensable document in meeting the regulatory mandates of the Building Safety Act. Serving as a condensed synopsis of extensive evidence detailing identified risks, alongside mitigation strategies concerning the building, its elements, and its occupants, this report holds paramount importance. It serves as a testament to the responsible parties' commitment to managing fire safety and structural integrity risks effectively, ensuring both regulatory compliance and resident safety.
In an industry that continually evolves, staying well-informed of the latest Building Safety Act requisites and essential building information is imperative. We're happy to announce our upcoming live webinar, 'Building Safety Case Compliance,' designed to explore the prerequisites of the Building Safety Case Report and the necessary information to ensure adherence to the Building Safety Act.
What you will learn from this webinar:
What is a Building Safety Case
What role does the Building Safety Case have within the Building Safety Act
What information should be included?
How should this information be stored and submitted?
How can RLB help?
How can Operance help?
Live Q&A

Samantha Mepham
Partner – National Head of Health & Safety